IP Camera Range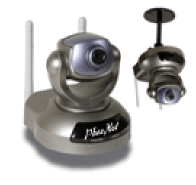 Our range of IP Cameras can be mounted inside or outside (in a suitable housing) and can be monitored / configured (remotely) from any suitable internet enabled computer system, using a web-based interface. All that is needed is an always-on Internet connection (preferably with a Static IP Address) and a mains supply.
IP Security Cameras are supplied with different features to suit a variety of individual requirements. Such as;
Wired or Wireless
Mains or POe (Power over Ethernet) supplied
Infra-red (for night time / low light vision)
Fixed or Pan and Tilt (controlled via the web-based interface)
Audio Visual Recording capabilities
The cameras can be used to monitor homes, housing estates, offices, banks, hospitals, child-care centres, shopping malls, amusement parks, swimming pools - in fact just about anywhere where an internet connection is available. Images from the cameras can be made public or kept private with a password.
A full installation / configuration service is available. For further information please call us free on 0800 1957809 or e-mail us at IP.cameras@tmtec.net